How to Work with Conflicts in Communities in the Times of War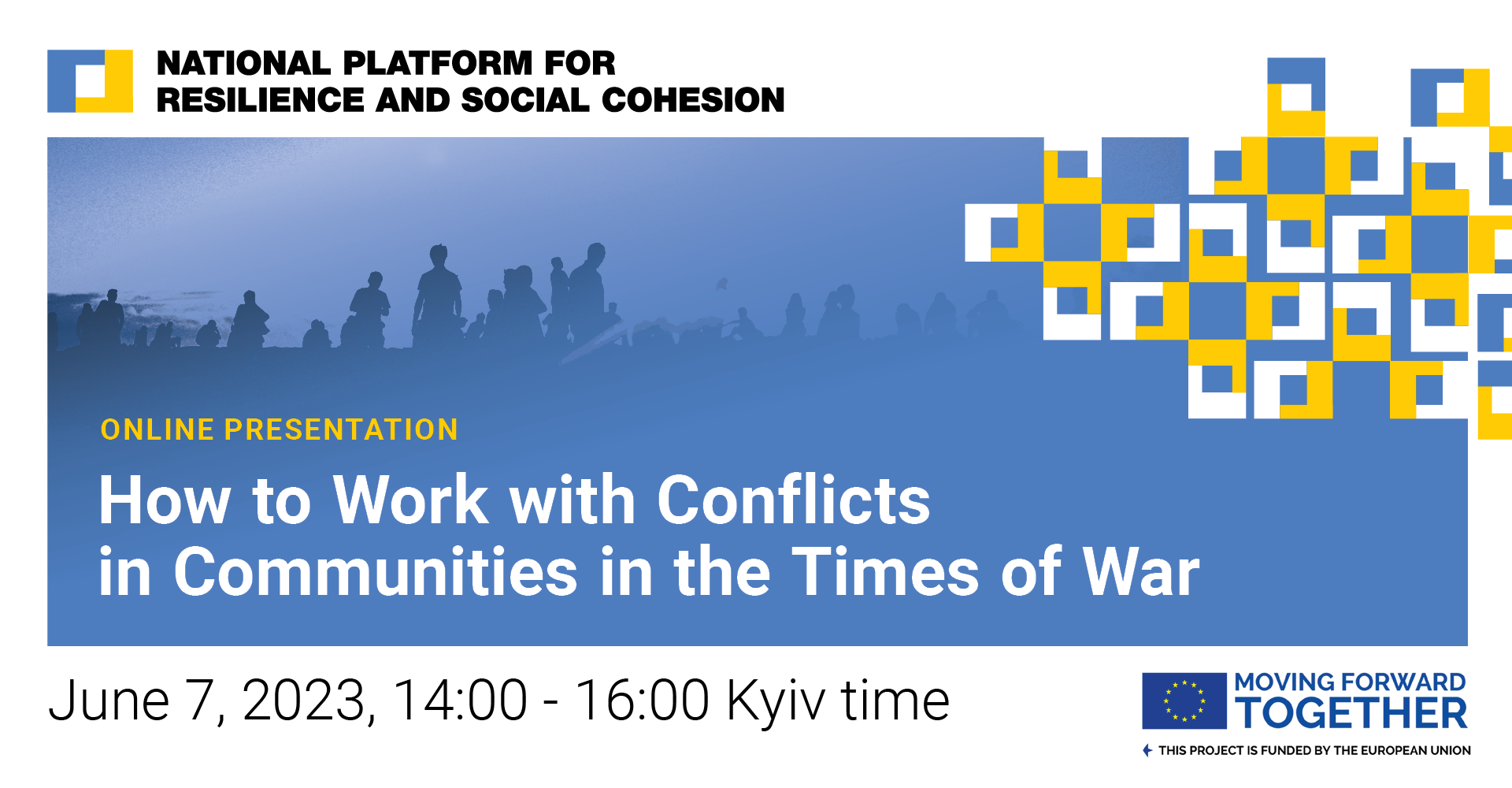 We are pleased to invite you to the presentation of the methodological guide "How to Work with Conflicts in Communities in the Times of War". The event will take place on 7th of June at 14:00 – 16:00 Kyiv time / 13:00 – 15:00 CET, online.
Registration form is available at the following link: https://forms.gle/KcdmUXzznRVR9BjF8
The onset of the full-scale invasion and a significant wave of internal migration within Ukraine have created conditions where the issue of internal conflicts has become even more acute. Although Ukrainians demonstrate exemplary social cohesion in the face of external threats, the sphere of intranational conflicts at the grassroots level often remains overlooked. Therefore, last year a project was developed and piloted with the aim of helping alleviate conflict tension in host communities. The methodological group of this project later has developed a guide based on this gained experience.
During the presentation, the methodological developments of the project, "Initiative for Supporting Interaction and Conflict Management in IDP Assistance Areas", will be shared, as well as the opportunities and limitations in the implementation of the concept of mobile teams and their role in promoting community social cohesion.
We invite everyone who plans to support or implement similar projects, as well as other initiatives already working with such types of conflict tension, including donor and international organizations, mediators and dialogue facilitators, psychologists, and other experts interested in the field of conflict work to participate in the presentation.
Event organizers: National Platform for Resilience and Social Cohesion and the authoring team of the methodological guide.
Event speakers:
Iryna Eihelson, PhD in Psychology, dialogue facilitator, member of the methodological group
Natalia Bezkhlibna, Mediator, Dialogue Facilitator, Coordinator of the Mobile Teams Component
Olga Kukharuk, PhD in Psychology, Psychotherapist, member of the methodological group
Event moderator: Iryna Eihelson