Resilience and cohesion of Ukrainian society during the war. Issue №1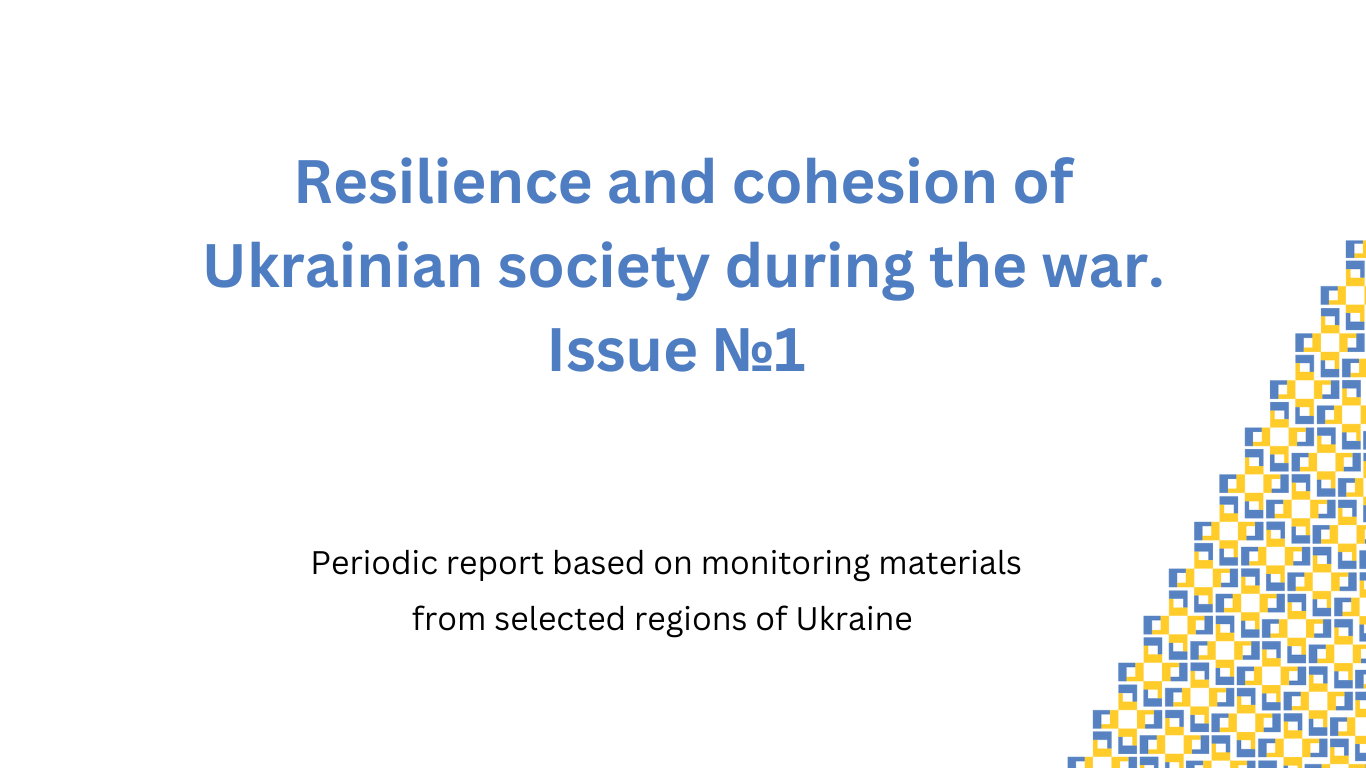 Periodic report based on monitoring materials from selected regions of Ukraine.
This report was drafted by the team of the Ukrainian Center for Independent Political Research (UCIPR) as part of the activities of the National Platform for Resilience and Social Cohesion. This civic initiative was launched in February 2018 (formerly known as the National Platform "Dialogue on Peace and Secure Reintegration").
The National Platform's activities are geared towards strengthening national resilience of Ukraine. This could be achieved by establishing dialogue practices in society, providing authorities with proposals for developing relevant policies, in particular those on resilience and social cohesion, as well as ensuring public awareness of these processes. The initiative has been implemented with the financial support of the European Union as part of "Building Resilience in Conflict through Dialogue" project.
The report is based on data on events in oblasts of Ukraine which are important for shaping a policy of na tional resilience. The oblasts were selected based on analysis of changes in cohesion of the local populations due to the outbreak of war and include Donetsk, Luhansk, Kherson, Zaporizhzhia, Mykolaiv, Odesa, Ternopil, Ivano Frankivsk, Chernivtsi, Lviv and Zakarpattia oblasts. For data collection, we distinguish between the temporarily occupied areas, frontline areas, and rear areas.
UCIPR is grateful for the materials supplied by participants of the Regional Network of National Platform for Resilience and Social Cohesion – Dmytro Arabadzhyiev, Nadia Babarykina, Dementii Bielyi, Anatolii Boiko, Ihor Havrada, Ihor Dotsiak, Mykhailo Zolotukhin, Oksana Ivasiv, Olena Nizhelska, Dmytro Tuzhanskyi, Andrii Romanenko, Nazar Khamuliak.
The report was drafted by Svitlana Gorobchyshyna (text, general editing), Olha Kovalenko (manager of the Regional Network of National Platform), Valeriia Skvortsova (coordinator of the project).
Edited by Doboni Mariana
Translated by Dorofieieva Svitlana
Designed by Buravchenko Serhii
The product content is solely the responsibility of the authors and does not necessarily reflect the official views of the European Union.
You can get acquainted with the text by following the link.